Little is known about when this amazing sport took off… (pun intended) But it is growing rapidly and as technology improves this sport just keeps getting better and better. When I looked for information on the history of this sport I did not find much information. Most of the information I reveal in this episode came from a variety of different youtube interviews.
The history of FPV drones begins with the people who innovated, pushed the technology, and made it popular. These people include Boris B., Chad Kapper, Joshua Bardwell, Charpu (Carlos), Chad Nowack, Tommy Tibajia, Mr. Steele, Tim Nilson, Chris Thomas, Scott Refsland, Anthony Cake, Scott Aikin and more.
These people could almost be considered to be the Founding Fathers of FPV Drones. I'm sure there may be others but these people are the early innovators who made a splash in the world of FPV inspiring others to put on their goggles and take flight.
FPV Drone Founding Fathers
Some of the oldest FPV drone footage on youtube belongs to Boris B. His passion for getting into this sport and developing it is unparalleled.
Boris B.
Some of the oldest FPV drone footage on youtube belongs to Boris B. His passion for getting into this sport and developing it is unparalleled.
There was much work to be done back then in 2013/2014 to develop the software onboard the drones. It began with OpenSource MultiWii Code based on Arduino 8-bit boards. The availability of 32-bit STM32 processors enabled the MultiWii code to be ported to STM32 and was named Baseflight.
Baseflight was refined and renamed to Cleanflight. Boris B. was a developer. He took Cleanflight and made improvements on the PID control loop and released an experimental version of it called Betaflight.
This software was all open source and the large contribution of Boris B. improved the way our drones think when they are whizzing through the air.
He did not relish the limelight and fame of showing off his flying. He posted a few videos but his contributions to the software were unmatched. He helped make our FPV drones smarter, more capable, and more customizable. Inspiring other developers to follow his footsteps and continue pushing the capabilities of how these drones think.
Chad Kapper
Chad Kapper was a director, producer and also an RC enthusiast. He founded Flite Test in 2010. Flite Test was an online platform that became extremely popular as it was a very helpful resource for people getting into the world of RC. HobbyKing was a big sponsor and ultimately wanted to be the sole sponsor. Chad denied them and ended up selling Flite Test.
He directed a film called Rotor DR1. It takes place in a post-apocalyptic world and follows a 16-year-old boy named Kitch who is looking for his father with his drone companion, DR1.
In a post-apocalyptic world where half the population is dead or missing and the sky is full of autonomous drones, a 16-year-old boy named Kitch sets out to find his father, joined by DR1, his drone companion.
Ultimately it was a failure and was not profitable. He lost a good bit of money so he jumped into his next venture. He was invited out to Hawaii by Scot Refsland to scope a new location for Drone Nationals.
He later sold it and started Rotor Riot in 2015. You cannot get into FPV drones without at least hearing about Rotor Riot. They have grown to become a huge brand name.
"Rotor Riot was started from the ground up to be a premier source for FPV freestyle drone content and products for the hobby and sport. We've built a large online subscriber base and our goal is to continue to educate, entertain and inspire the FPV community."

Chad Kapper, CEO of Rotor Riot
The quote above is from the beginning of 2020. As, on January 3rd, Red Cat Holdings has acquired Rotor Riot in stock and cash transaction. Rotor Riot's revenue grew 44% Year-Over-Year from 2018 to 2019 by $2.6 Million. See that article here. But hey! We're talking about history right now…
Rotor Riot gained popularity in large part to the team of legends that went into it. They had a team of some of the best FPV drone pilots and created some amazing content on youtube right away. It began with Mr. Steele, Tommy Tibajia, Charpu, and Chad Nowack.
Kapper discussed starting a new channel/brand when they met in Hawaii during the scouting trip for Drone Nationals that Scot Refsland sponsored. Steele & Tommy, intrigued by the opportunity to make money with the sport they loved, called Chad back regarding the show. They then met in LA and had the first round of episodes. The Channel grew to 40k subscribers in 8 months which was great for 2015! It slowly added more pilots, new content, grew, and then shifted to making its own products and becoming even more of a business.
Joshua Bardwell
One of the biggest names in the FPV Drone industry is Joshua Bardwell. He has a very strong youtube channel and covers so much information about the sport. His first video of a large quadcopter simply hovering was published August 27, 2014. You can see it here. It is not that interesting of a video but neat to see him experimenting and getting into it.
His first informational video on drones or multi-rotors covers how to tell if your flight controller is mounted straight. Check it out here. Joshua really dived into the teaching aspect of the hobby. He covers almost every topic on FPV drones and how a newbie can get into it.
March 8th, 2015 you can see Joshua flying a Wallow around his yard. This is some of the first FPV drone footage to hit youtube. It is amazing to see how far the sport has come. Also, see how much better Joshua's skills get. Check it out here.
He too joined the Rotor Riot Team and has been doing videos with them as well. He holds live stream youtube video sessions where you can ask questions and get answers. His presence in the community of FPV Drones is extremely helpful, especially for newbies!
CHARPU FPV (Carlos)
CHARPU FPV is another founding father of the Drone community. His real name is Carlos Puertolas. He had some of the best skill early on in the game. Some of his earliest videos inspired people to get into FPV. We know he is a big-time animator at Dreamworks for his day job. It seems he hasn't posted anything on his youtube since 2017. I don't think his original intent was to become a drone icon or famous so he left it at that.
He was convinced by Refsland to join the first US Drone Nationals. This was held in Sacremento in July 2015. He really crumbled under the pressure and did not do as well as everyone thought he would coming 5th in the Freestyle event. But, Charpu still went home with a smile on his face and continues to enjoy the sport for what it is.
He did join Rotor Riot and did multiple episodes with them as well. He is a happy go lucky Portuguese FPV Founding Father. Many people watched the video below and dubbed the area Charpu's Cathedral. Some people still tell him the video below is the reason they got into FPV. See the article here for more info on Charpu.
Chad Nowack
Chad Nowak, the Aussie. He grew up as a kid loving RC aircraft and got into engineering. He designed carbon composite airframes and repaired motors. When his son starting getting into RC, Chad was introduced into FPV drone flying and loved it.
He flew quite a bit and his skills became legendary. His biggest FPV feat and what everyone talks about is how he came over to the USA for the first FPV Drone Nationals and dominated. He won the individual time trial, team trial, and the freestyle event. With more than 120 racers this was no small feat! He had a reliable setup and kept calm while flying.
He then too joined Rotor Riot and produced many amazing videos with them. Nowak and Tommy FPV became close friends during his time at Rotor Riot. See more on Chad Nowak on his website here.
Tommy Tibajia
Tommy Tibajia, aka Tommy FPV aka, UMMAGAWD is yet another skilled pilot. He spent some time as a DJ and is a pretty fresh dude. He got into FPV and has a Youtube channel called ummagawd. His first video on that channel was back in October of 2013.
His videos gained popularity and he was offered a sponsorship from Mountain Dew. At the time he had been working for quite some time in the Business field for a Fortune 500 company. He initially declined the offer. But they were persistent and after 9 years at his day job, he quit and went full-time FPV drone pilot.
He competed in Drone Nationals and was well known in the community. This, of course, led to him being picked up by Rotor Riot as they started. He also has his own website and products. Check them out here.
Mr. Steele
Steele Davis grew up as a kid skateboarding a lot. He looked up to the pro skateboarders and wanted to be like them. However, he got hurt a lot and in his downtime fell into the world of FPV Drones.
Steele Davis was also one of the earliest skilled pilots. He was young compared to the other founding fathers here. He also started one of the most popular youtube channels. He started flying FPV in 2013/2014 and has a pretty funny/brash personality. Warning for the kids, his videos contain a bit of cussing. But they're very entertaining.
He competed in the Drone Nationals and Drone World games back in 2015 and won runner up in the Freestyle event at Worlds and won the fastest lap record in Nationals in California. He was part of the group that visisted Hawaii where Chad Kapper Scooped up his Rotor Riot Crew which (big surprise) also included Steele Davis. Check out his website and a bio video here.
Tim Nilson
Enough talking about people who got FPV drone famous via massive skills, youtube, and racing. Tim Nilson was an entrepreneur.
He had a tech-based startup that made ringtones for cellphones. He grew the company and then sold it to Sony in 2000 for a hefty profit. As entrepreneurs do he was looking for the next "big" thing and boom, he found FPV drones.
He started Luminier, which designs and manufactures high-performance FPV gear. Then he also started GetFPV.com which is the largest online retailer for Drone parts. You can get everything you need and more to make your drone. He made these moves in 2012.
He started GetFPV and Luminier out of his house and has now grown it to a 24, 400 square foot facility in Sarasota with over 6,000 SKUs. He made a big splash in the drone parts manufacturing world.
Scott Refsland
Scott is a promoter. He has backed and promoted FPV drone racing since he started the Drone Sports Association. He made the first Nationals happen in California (the one Chad Nowak dominated) and also started the Drone Worlds competition. He got ESPN connected into the sport and has helped pushed FPV as the best mix between virtual reality and real-life racing.
Scott Aikin
Scott Aikin created a great resource and community for building drones. This sport pretty much demands that you are able to build your own drone and FPV Drones are extremely customizable. There are thousands of different parts that can be put into many different types of builds. That's part of what makes this hobby or sport so interesting. There's so much room for customization and a uniquely built drone.
Scott created a great website called Rotorbuilds.com. It is a platform that gives FPV drone enthusiasts a place to share their builds. It helps people find parts, figure compatibility and inspire them with new ideas. It will calculate the cost of the build and allows the hobbyist to upload pictures and directions on how they made their build.
The first build was posted on July 21, 2015. The builds back then were a lot clunkier and it is neat to see how far technology has come from these builds back in 2015. There are hundreds of new builds posted every month. It gives you a lot of opportunities to find interesting combinations and ideas. I have spent a lot of time browsing on Rotorbuilds.
I like how you can search a certain part and it will pull up all the builds that have it. For example, I got the GEPRC Mark 4 for my first frame. I searched it and found tons of drones using that frame. Going through those pictures allowed me to figure out how to mount my antennas & VTX etc.
Chris Thomas
Chris Thomas is an organizer. He founded MultiGP in early 2015 and has grown the organization into an international group of event organizers and pilots. MultiGP is the biggest drone racing league in the world. It contains a network of over 900 chapters and over 14000 pilots. MultiGP helps them by providing tools, guidance, and overall organization/structure.
It started with Chris organizing races in Florida. Making sure each racer was on the right frequency and setting up the courses. He built a process of a safe and effective way to manage races.
MultiGP really started ramping up in 2016 when a series of 60 races were held that led into a Championship. That championship race was held in Muncie, Indiana at the AMA (Academy of Model Aeronautics) headquarters. It was one of the biggest races ever held in its time. See the video below for a great recap of the race. You can see how passionate Chris is about building the community and how well he organizes it.
Drone Racing League
The Drone Racing League or DRL was founded in 2015 by Nicholas Horbaczewski. It then launched in January 2016.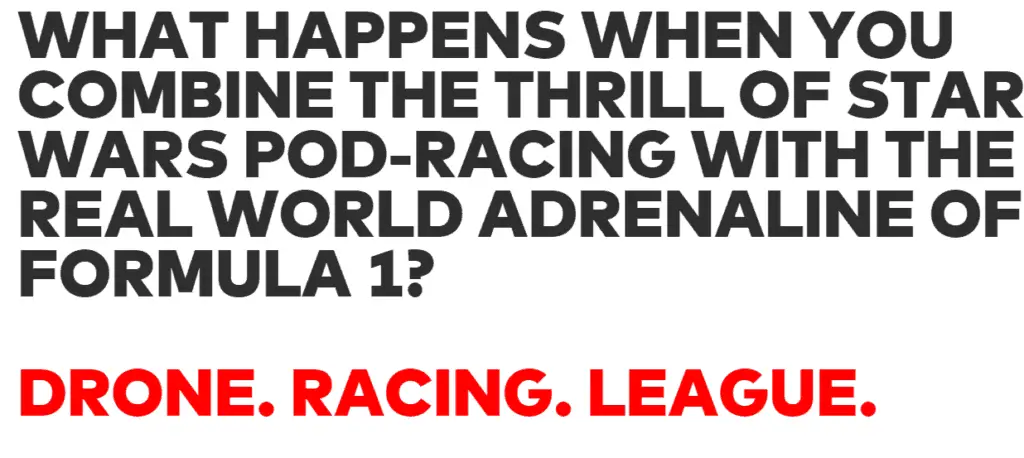 DRL is the global, professional drone racing circuit for elite pilots. With custom built racing drones traveling 90 MPH+, pilots race FPV (First Person View) through the most insane 3D courses ever created outside of a video game. The high-speed action airs on the best sports networks, including NBC Sports, Twitter, Sky Sports, ProSieben, Groupe AB, OSN and FOX Sports Asia.

thedroneracingleague.com
The DRL differs from MultiGP in a few ways. All the racers use the same quad which has been designed by the DRL. This ensures that all the pilots are on the same playing field. The current drone the DRL has the racers on is called Racer4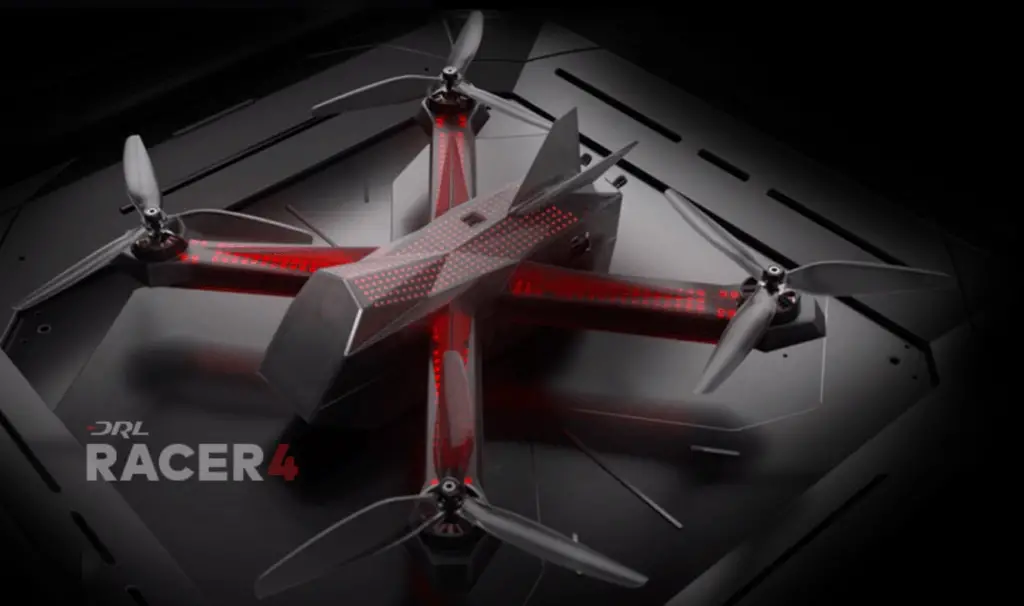 Check out their first youtube video below. It really started a spark that got a lot of people interested in FPV.
If you have any additional thoughts on the history of FPV Drones or know of something that was pretty monumental that I ought to add. Please let me know!