Unfortunately, the Mavic Mini doesn't record sound, as it doesn't have a built-in mic. Even so, there are several ways for you to incorporate sound into the video captured by your drone. Read on for the best tricks, techniques, and tips to record sound with your Mavic Mini.  
The Mavic Mini has a ton of amazing specs and features. Along with its 2.7K video capture and 12MP camera shoots, the Mini impresses with its compact design and stable flight operation.  
Does the Mavic Mini record sound, though? It shoots photos and videos, so it wouldn't be too far of a stretch for it to have a sound recording feature too, right? 
Upload a Sound Over the Video 
Let's start off with the easiest and simplest solution: upload a sound over the video you captured with your drone! 
Once you upload the video to your PC or laptop, pull out your video editing software and attach a sound to the selected file. Some of my personal favorite video editing software includes Adobe Premiere Pro, Filmora, and Corel VideoStudio. 
All the mentioned software allows you to add several layers of sound to your video. You can also edit the loudness to match what's shown on the video. 
Luckily, there are a ton of websites that offer an abundance of audio and sound effects. If you want to add regular royalty-free music to your video, I recommend visiting websites such as YouTube Audio Library, Free Music Archive, and No Copyright Sounds. 
For sound effects, check out Artlist SFX, Epidemic SFX, and Freesound. 
Use the Microphone on the Mavic Mini App
The DJI GO 4 app has a built-in sound recording system that allows you to record your voice or ambient noises present around you. It won't record the sound from the drone itself as it'll likely record unpleasant motor noises, prop washes, and wind noises.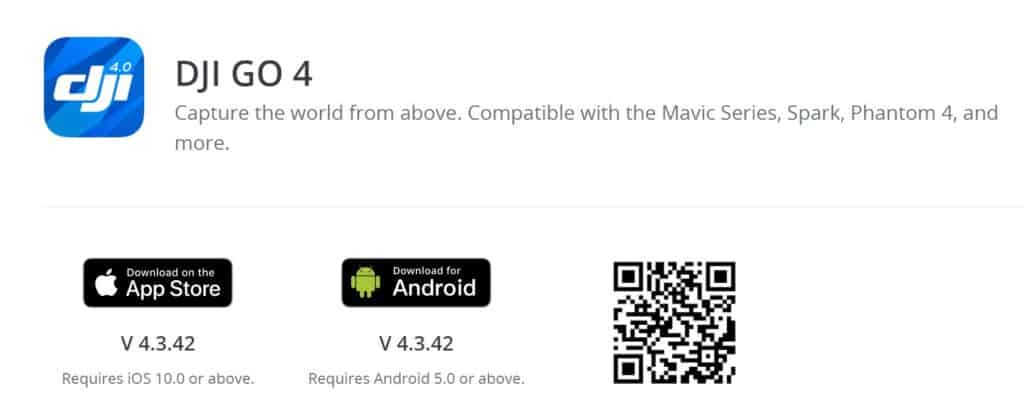 To use this feature, you'll simply need to enable the "cache during video shooting" and "record audio with video cache" options. You'll find these options by tapping on the three dots in the upper right-hand corner of your screen. 
Once you've recorded the sound, you'll need to download the cache on your computer. Then, blend said audio recording with the video cache from the drone footage. 
Mount a Microphone Under the Mavic Mini
If you're not fond of uploading or adding an external audio file on your drone footage, try mounting a microphone under your drone. Preferably, keep it hanging at least 20 to 30 feet away from your drone to minimize the buzzing and mini-helicopter sounds as much as possible. 
This option is great for recording nature and environment sounds as-is.  
Although ideal, there are some downsides to this method. One, there's a risk of the props cutting into the microphone wire. If this happens, you might not only damage the mic's wiring but the drone or props, as well. Another risk is the center of gravity of the drone will be off which will cause the drone to use more power to stabilize. That along with the extra weight you need to expect a shorter flight time.
So, you're a badass and you want to record audio like this. First you need to pick up a lavalier microphone. These are generally meant for clipping onto a person and recording audio for them while allowing them to move around. I use a Tascam DR-10L for my Youtube channel. However, the Samson, would work well too and it is not as expensive.
You don't want to block the sensors or battery ventilation on the bottom of the drone, so your best bet is strap it or tape it to the top center area of the drone. Then drop the Mic wire against the back in the middle. Definitely make sure to tape the mic wire along the back. Another safeguard idea is to use a piece of stiff wire, such as a clothes hanger. and electrical tape it to the wire as soon as it drops to keep the wire going straight down.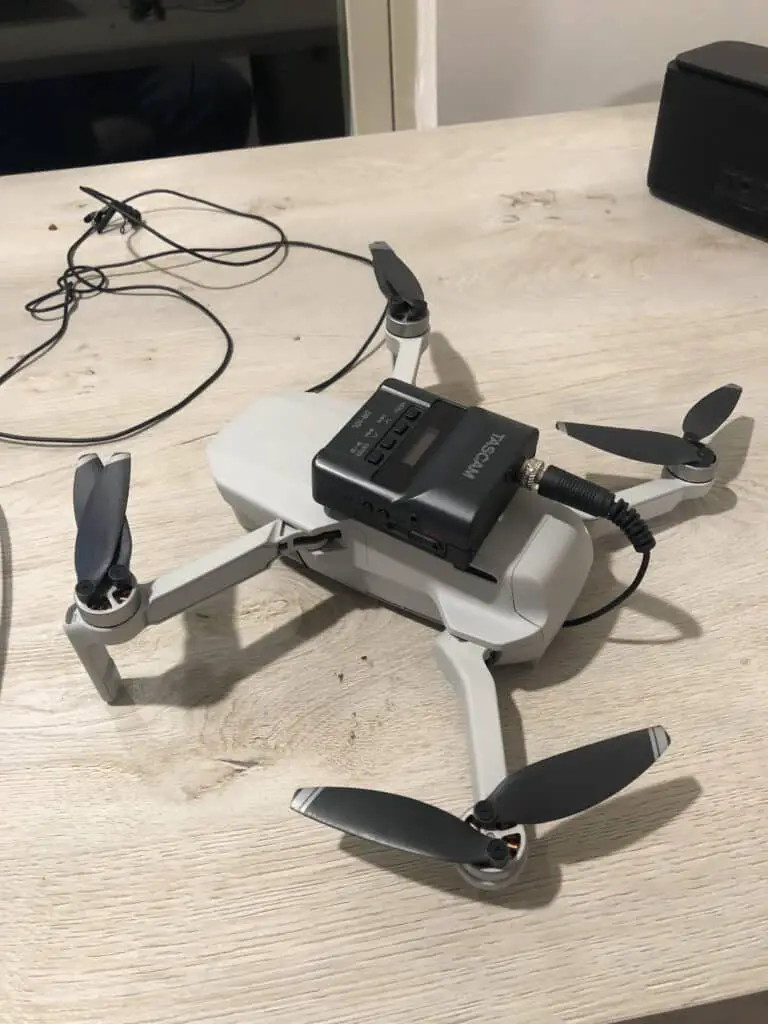 Bottom Line 
Despite major technical advancements in aerial drones, manufacturers still haven't found a good way to add microphones to the unit's internal hardware. With drones being so loud and not a lot of practical application I can see why. Even so, that doesn't stop us from adding awesome sound effects to our drone footage. All the techniques above will help you add sounds to your Mavic Mini drone video. Good luck!